Working to deliver tomorrow's products, today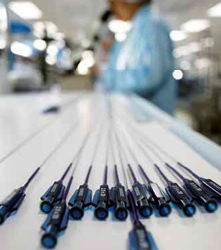 Twelve-month results from the first human trial of our BioFreedom polymer-free drug-coated stent were presented at TCT in September 2010, demonstrating equivalent safety and efficacy to a conventional DES with durable polymer. Patients receiving BioFreedom exhibited a similar degree of in-stent late lumen loss to those receiving Boston Scientific's Taxus® Liberté® (p = 0.001), with a trend toward superiority (p = 0.11). There was no evidence of stent thrombosis.
BioFreedom represents the latest development in Biosensors' stent technology, featuring a micro-structured abluminal surface which permits the controlled release of our proprietary Biolimus A9™ drug without the use of a polymer. Due to the absence of polymer coating, we believe that BioFreedom will promote more rapid vessel healing and reduce the need for longer term anti-platelet therapy. We are now in the process of planning larger studies with longer-term follow-up to further investigate this exciting development.
CAUTION: The law restricts these devices to sale by or on the order of a physician. Prior to use, it is important to read the "Instructions for Use" supplied with these devices for indications, contraindications, suggested procedures, warnings, and precautions.
Biosensors' interventional cardiology products, including BioMatrix Flex™, BioMatrix NeoFlex™, BioMatrix™, Axxess™, BioFreedom™, Chroma™, BioStream™, BioPath™, Gazelle™, Juno™, S-Stent™, Powerline™, Quadrature Link™ and MultiPleat™, are not available for sale in the United States and certain other countries. All other trademarks are the property of their respective owners.
BioMatrix Flex, BioMatrix NeoFlex, BioMatrix, Axxess, BioFreedom, Chroma, BioStream, BioPath, Gazelle, Juno, S-Stent, Powerline, Quadrature Link and MultiPleat are trademarks or registered trademarks of Biosensors International Group, Ltd. in the United States and certain other countries. All cited trademarks are the property of their respective owners.