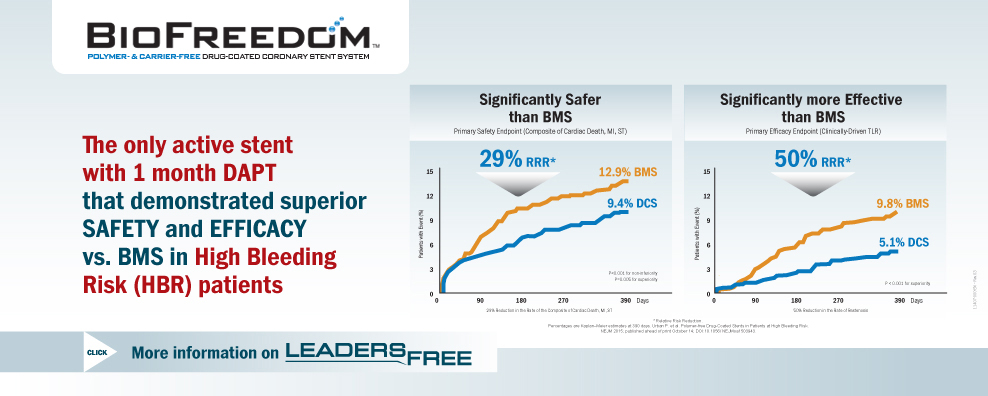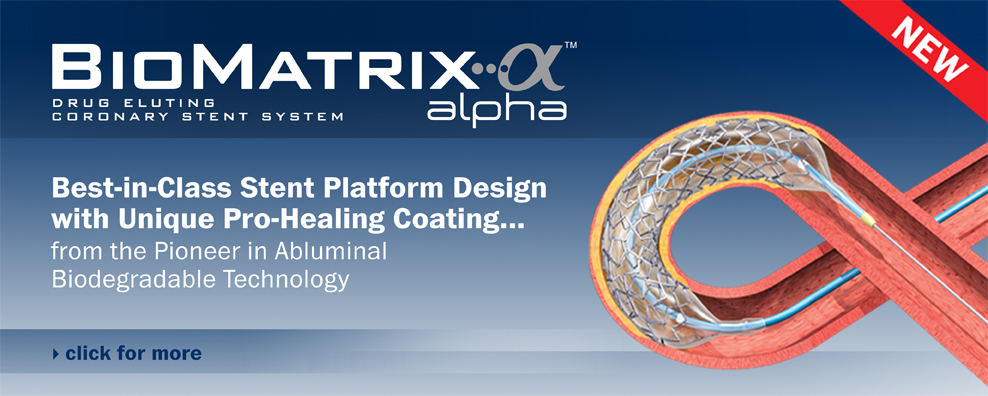 Spotlight LEADERS FREE
This year, LEADERS FREE have been selected as one of the leading featured at TCT 2016.
The primary endpoint of this prospective, double-blind, randomized (1:1) clinical trial comparing the BioFreedom™ DCS to the Gazelle™ BMS in High Bleeding Risk (HBR) patients with
1 month DAPT, have been presented by Philip Urban.
Spotlight BioFreedom™
PCI in High Bleeding Risk
(HBR) patients
With HBR patients, the challenge is to balance the ischemic risk versus the bleeding risk associated with long-term DAPT.
Drug-eluting stents (DES) require dual antiplatelet therapy (DAPT), to avoid stent thrombosis (ST). However, prolonged DAPT has been shown to increase the risk of bleeding in the general PCI population. Clinical data show that bleeding is associated with an increased risk of mortality.
High Bleeding Risk patients are at even greater risk.
Spotlight
BioMatrix NEOFLEX™
BioMatrix NeoFlex™ is the latest addition to the BioMatrix family of drug-eluting stents (DES).™
It features an enhanced catheter delivery system with a lower entry profile than its predecessor, so improving pushability, trackability and crossability. BioMatrix NeoFlex retains the same unique combination of abluminal biodegradable polymer coating, Biolimus A9™ and flexible platform which have made the BioMatrix family of DES so popular.
Our presence at SOLACI-SBHCI 2016
From June 8-10 in partnership with TCT-GI2, SOLACI-SBHCI is the largest congress in Interventional Cardiology in Latin America.
Biosensors International will once again be supporting the meeting. Visit us on booth # 65+66 to learn more about our expanded product range, including BioFreedom™, BioMatrix Alpha™ and BioMatrix Family.
Biosensors' Symposium:
Wednesday 8th June at 12:15 Click here for more detail (link on the pfd invite)