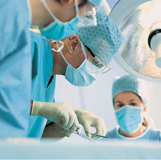 The Interventional Cardiology and Critical Care Products divisions both have track records of innovation in the development of next-generation medical technologies that make a difference in patients' lives. A worldwide sales and marketing team and a network of distributors deliver our products to where they can help most.
Interventional Cardiology
The Interventional Cardiology division is focused on the development, manufacture and commercialization of drug-eluting stents, bare metal stents and angioplasty catheters. These products are commercialized in certain areas under the CE Mark, but are not approved by the United States Food & Drug Administration, and are not available for prescription or use in the United States.
Critical Care Products
The Critical Care Products division develops and manufactures vascular catheters, pressure monitoring kits, arterial blood sampling kits and blood pressure transducers for use in open heart surgery and critical care areas of the hospital.
Disclaimer: Biosensors International does not manufacture or market interventional cardiology products in the United States.